3M™ Scotch-Weld™ Epoxy Adhesive DP100FR is a flame retardant, non-sag, two-part, rigid epoxy adhesive offering a fast cure and machinability. It is a fast-setting epoxy that cures at room temperature to form a rigid bond. Low viscosity for easy dispensing and leveling. Non-sag formulation ensures adhesive stays where applied.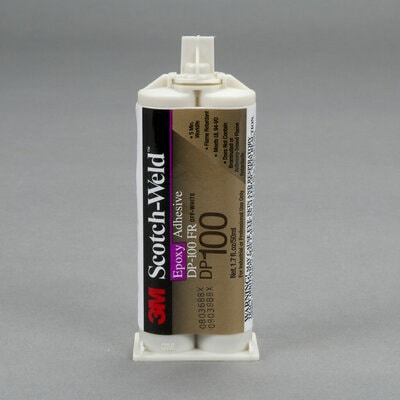 Available in Duo-Pak and bulk containers
Flame Retardant Formula Cures Rigid for High Static Load Holding
3M™ Scotch-Weld™ Epoxy Adhesive DP100FR is a non-sag, versatile structural adhesive for general purpose bonding where a UL 94 V-0 certified product is desired. Does not contain brominated or antimony- based flame retardants. It works on a variety of substrates including metals, ceramics, concrete and wood. Its high shear strength delivers strong, rigid performance, making it ideal for multiple applications in the electrical, general industrial, construction and consumer goods industries.
Recommended Applications
Flame retardant wire tacking
Applications that requiring machining afterwards
Fast bonding where a flame retardant adhesive is required
Fast 6 Minute Work Life with Handling Strength in about 15 Minutes
The mix ratio for 3M™
Scotch-Weld
™ Epoxy Adhesive DP100FR is 1:1 for quick, precise dispensing, and with a 6-minute working time there's som