3M™ Scotch-Weld™ Epoxy Adhesive 1469 is a one-part, thermosetting liquid adhesive that provides exceptionally high strength at temperatures from -70°F to 300°F (-57°C to 149°C). This white to cream colored adhesive can be applied by knife coating, trowel, roller coating, pump and high pressure injection methods.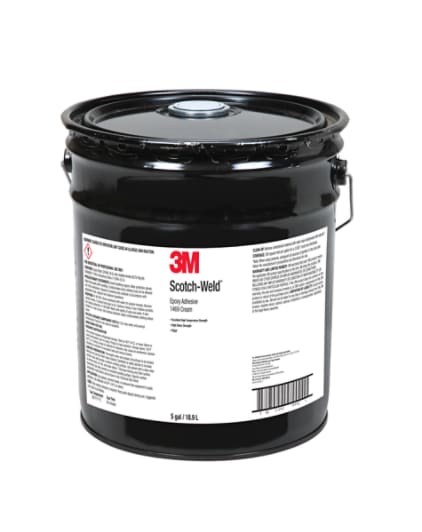 A one-part, 100% solids, thermosetting liquid adhesive
Excellent Retention of Strength after Aging in Typical Environments
Our 3M™
Scotch-Weld
™ Epoxy Adhesive 1469 eliminates the need for metering or mixing and weighing two part systems. This product offers exceptionally high performance at service temperatures ranging from -70°F to 300°F (-57°C to 149°C). Can reach more than 2,000 PSI at 300°F. Our adhesive provides excellent strength retention after aging in typical environments. Suggested cure profile: 2 hours at 350°F (177°C).
Recommended Applications
Understanding Epoxy Adhesives
Epoxy adhesives
are part of the class of adhesives called "structural adhesives," which include polyurethane, acrylic, cyanoacrylate and others. Epoxies are formulated as liquid reactive polymers that undergo a chemical reaction when mixed and then cure to form a solid plastic material. Once the two parts are mixed in their specified ratio, they begin the curing process and offer a limited working time where the adhesive can be ap