3M™ Scotch-Weld Epoxy Adhesive DP110 Gray is a flexible, fast-setting, two-part epoxy adhesive that works well on a variety of substrates, including metals, ceramics, concrete, composites, wood and many plastics.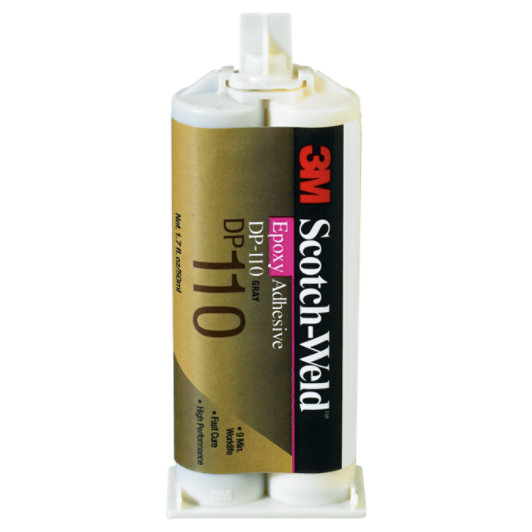 Available in Duo-Pak and bulk containers
Provides Strong, Permanent Bond Even Under Vibration and Impact
3M™ Scotch-Weld™ Epoxy Adhesive DP110 is a versatile product and works on a variety of substrates including metals, concrete, composites, ceramics, many plastics and wood. The low viscosity makes it easy to dispense and self-level; and an effective tool for filleting and potting. It features high shear strength and good peel and impact performance that, when combined with good flexibility, make it ideal for a variety of applications in the transportation, specialty vehicle, electrical, general industrial, sporting goods, construction, and consumer goods industries.
Recommended Applications
General attachment applications in a variety of industries
Replace 5 minute epoxy for improved performance and more positioning time
Provides Handling Strength in about 20 Minutes
The mix ratio for 3M™
Scotch-Weld
™ Epoxy Adhesive DP110 is 1:1 for quick, precise dispensing, an