Scotch® Fine Line Masking Tape 265 is a high-performance polypropylene plastic tape that has both a low profile and good adhesion to mold-release surfaces. It is often used as a layout tape for high value multi-color gel coated fiberglass boat hulls. It is green in color.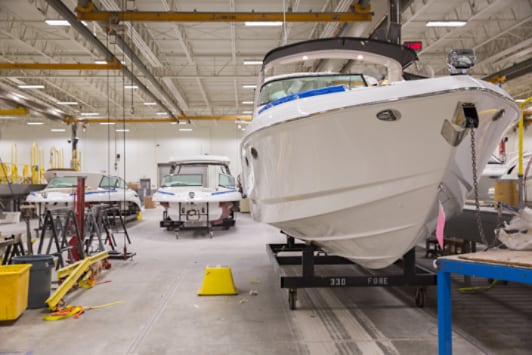 This tape's unique design has proven to be ideal for gel coat applications involving fiberglass boats
Ideal for Gel Coats and Fiberglass
Scotch® Fine Line Masking Tape 265 features a pressure sensitive silicone adhesive capable of delivering the high instant adhesion necessary for critical, large-scale paint applications. This tape has proven itself to be ideal for in-mold color masking with gel coats on the fiberglass surfaces of boat hulls, decks and more. Its polypropylene backing is stiffer than vinyl fine line tapes, while conforming easily around corners and resisting chemicals.
Recommended Applications
Multicolor gel coat masking involving fiberglass
Specialty vehicle, marine and other gel coating applications
Accomplish Sharp Color Separation with 3M Conformable and Fine Line Tapes
As a recognized pioneer and leading designer in industrial tapes, adhesives and more, 3M has developed a collection of conformable and fine line tapes suitable for even the most critical of paint masking applications. These tapes feature industry-leading technology in their capability to separate colors while preventing soak-in, edge-lifting and more.