3M™ Scotch-Weld™ Epoxy Adhesive DP460NS is a non-sag, toughened, two-part epoxy adhesive with a 2:1 mix ratio, 60 minute work life and handling strength in approximately four hours. This product provides a strong, durable bond to many surfaces.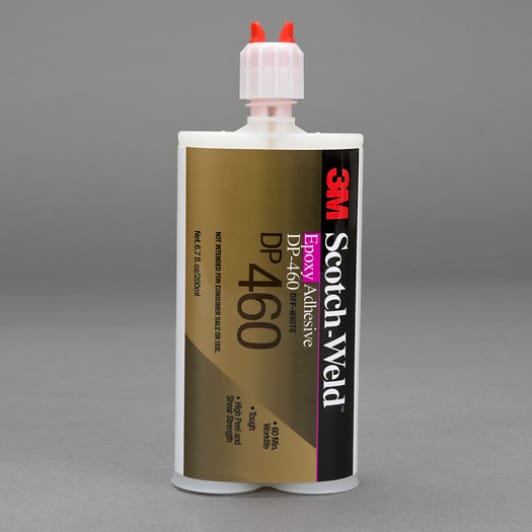 Available in Duo-Pak and bulk containers
When using a Duo-Pak (DP) size adhesive, rely on
3M dispensing equipment
(PDF, 1.9 Mb) for convenient and accurate metering, mixing and dispensing.
Straightforward and Easy to Use
3M™
Scotch-Weld
™ Epoxy Adhesive DP460NS exhibits excellent shear and peel strength along with good impact durability. It bonds to many surfaces, such as ceramics, metals, glass, wood and some plastics. When it comes to preparation and application, 3M™ Scotch-Weld™ Epoxy Adhesive DP460NS is straightforward and easy-to-use. Simply mix the components with a 2:1 by volume mix ratio and then apply according to the instructions to achieve a strong, long-lasting bond. The components are easy to mix and the 60 minute work life means users have ample time to reposition to the bonding surfaces before a durable, long-lasting bond is achieved. For easier mixing and application, use 3M™ Scotch-Weld™ EPX™ Plus II applicators with a duo-pak cartridge.
Recommended Applications
High impact resistance for sporting goods
Transportation applications, such as rail and automotive
Military and aerospace applications
High temp